The Grid-enabled radiosurgery application uses RAPT as a front end to the EGS Monte Carlo engine to model ionising radiation transport through the head of the patient. The simulation requires:
Definition of patient geometry
Specification and distribution of material types contained within the geometry
Position of beam isocentre (i.e. beam focus)
Beam properties - intensity profile, spectrum
Beam distribution - number of beams and their arrangement
Quality of simulation parameters - total number of photons, interaction types
This data is specified by the contents of numerous text files that are loaded into the EGS solver at startup. The files are not native to EGS but are created for EGS through use of the RAPT input GUI. All input files are stored in a default Input working directory, zipped, encrypted and dispatched to the Grid. The simulation process simulates the dose given to the region of interest by modelling millions of photons, and following their paths, employing information from photon scattering data, to correctly give the photons their positions, angles of deflection, and energies or to absorb them in the tissue as they interact with the atoms of the target. The energy distribution within the geometry equates to the dose distribution of the model. Thus the output from the modelling process is:
3D patient mesh geometry
Accumulated dose at each element of the solution mesh
Flux variance at each element of the solution mesh
The results archive is pulled from the Grid in encrypted form and unzipped on the client within the working Output directory. This data is accessible to the user as a set of text files, but a visualization application has been provided to enable the user to explore the distribution of radiation dose within the treatment volume. The dose data can be represented as contours on specified planes through the volume mesh or visualised as isosurfaces in 3D. The job submission process is outlined in this figure.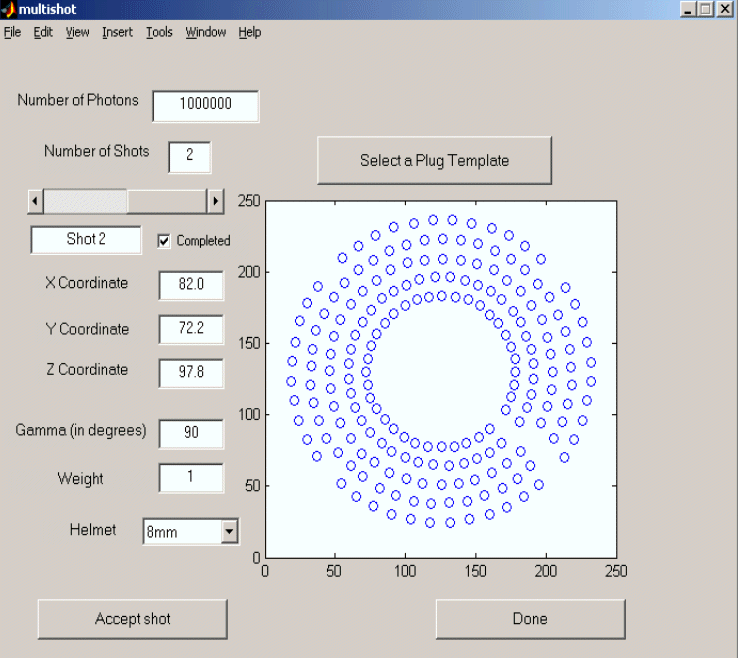 Treatment set-up
Bubble head set-up
Computed dose contours